Keyword research is the starting point for search engine optimization. It is the act of searching, organizing, and analyzing user queries (searches) to create an SEO content strategy. 
We base almost all our decisions on keyword research because that's how we understand what our customers are looking for.
Keyword research is helpful at any stage of your business. By performing keyword research, you can:

Discover "new" opportunities that you might have missed otherwise:

If you're starting something new, you can use it to test the validity of a new idea.

Gain a deeper understanding of your target market:

If you already have a business, you can use it to figure out what your prospects are searching for and create awesome, relevant content for them.

Assess market demand for your product or service:

If you're trying to expand to new markets, you can find out how many people search for a service in a specific area, before you expand.
In this post, you'll learn strategies on how to find high-volume keywords that are easy to target and suit your website's niche as well as knowing how your audience search content online.
 Plus, we've added a keyword research template for you to create a comprehensive keyword strategy that you'll be able to use in the months to come.
Categories of Keywords
Keyword research will let you know, before even starting, if anyone wants what you're creating. 
Not all keywords are the same. There are important differences to consider in your keyword selection.
When we do keyword research, we categorize everything into one of three buckets: core keywords, secondary keywords, and accessory keywords.
Core Keywords: This is the target keyword you will optimize your page for.  
Keep in mind the golden rule for keyword research:
One Core Keyword = One Page
When you find a core keyword you want to use, pick one page on your site to optimize for it.
Some make the mistake of picking a core keyword and placing it on every page of their site. Or they pick 10 competitive, high-volume keywords, and they try to optimize one page for all 10 of those phrases. 
Don't do that.
There are usually hundreds of different ways to search for a core idea (see example below). This doesn't mean you need to make hundreds of pages on your website to capture all these search queries.
| | | |
| --- | --- | --- |
| Keyword | Searches/Month | |
| Ice Cream Cake Recipes | 8,200 | |
| Good Ice Cream Cake Recipes | 2,400 | |
| Recipes For Ice Cream Cake | 3,100 | |
| Recipes Ice Cream Cake | 850 | |
One page can rank for all these keywords. Any page on your site can rank for hundreds, sometimes thousands of keywords.
Your core keyword will be the one that best represents a specific search topic — for a group of keywords with very similar meanings like on the table above, the core keyword is typically the one with the highest search volume.
Secondary Keywords: Search terms that are slightly different, but closely related to the core keyword. You will pick a core keyword for each page, but you'll still be able to rank for related search terms. 
Going back to our previous example:
| | | |
| --- | --- | --- |
| Keyword | Searches/Month | Keyword Bucket |
| Ice Cream Cake Recipes | 8,200 | Core keyword |
| Good Ice Cream Cake Recipes | 2,400 | Secondary keyword |
| Recipes For Ice Cream Cake | 3,100 | Secondary keyword |
| Recipes Ice Cream Cake | 850 | Secondary keyword |
We pick a core keyword to simplify things and make optimizing easier. If you're optimizing for your core keyword, you will often rank for secondary keywords, even if they're not used on the page.
Secondary keywords are still important. Collectively, they often bring more organic traffic than your core keyword. 
Best places to find secondary keywords are Google-related searches, Google auto-suggest, and Google trends.
Accessory Keywords: These are keywords that come up in the same topic as core keywords, but aren't directly related. They often have less search volume but have less competition. 
They are the type of keywords that would come up if you were having a real-life conversation about your core keyword.
They are often only partially related, and they are generally lower in search volume. But they're usually helpful to the user, and usually very easy to rank for. 
The best places to find accessory keywords are Google's "people also ask" feature, Wikipedia, and Reddit.
See the picture below to know the differences between core, secondary, and accessory keywords:
Keyword Variations
Up until now, we've picked a core keyword and the web page we want to optimize. We also have secondary & accessory keywords ready to go.
Every core keyword is generally going to have several small variations of the phrase that usually mean the same thing.
Variations of core keywords include synonyms, pluralization, abbreviations, partial match keywords, and keyword stemming.
As an example, let's look at the core keyword:
Sailing Lessons Boston Massachusetts
Core Keyword: sailing lesson Boston Massachusetts
Synonyms: boating lessons, class, course, sailing school, sailing club, training
Pluralization: sailing lessons Boston Massachusetts
Abbreviations: boston ma, Boston mass
Partial Match: Boston Massachusetts lessons for sailing
Keyword Stemming: sail, sailor, sailing, sailboat
Important: These are not secondary or accessory keywords. Do not create new pages for variations, add them to your core keyword page. We aren't trying to rank for these variations. We're including these variations on our page, to help our core keyword rank higher.
The easiest way to find variations and keyword ideas is to Google your core keyword and look for bolded keywords.
As seen in the example, when I searched for wireless headphones, it offered similar variations such as earphones, bluetooth headphones, headsets, etc.
Latent Semantic Indexing (LSI)
Outside of keyword variations, you need to consider another concept called Latent Semantic Indexing (LSI).
Search engines use LSI to figure out the overall topic of a page by finding words that frequently show up together.
In the past, search engines were dumb. To find a relevant document for a search, they would look for how many times the keyword was mentioned on the page. The page that repeated the keyword the most won.
Spoiler alert: it turns out, that was a terrible way to build a search engine and it doesn't work anymore (don't try it!).
Now search engines understand the overall topic of a page based on other related words that keep showing up.

Here's an example of LSI keywords:

Keyword: Dog
| | |
| --- | --- |
| Synonyms | LSI Keywords |
| dog | Golden retriever |
| puppy | adoption |
| pup | Dog training |
| pooch | Family pet |
| hound | Funny videos |
Important: LSI keywords are not synonyms. We want to add these LSI keywords to our core keyword page if it makes sense to do so. Similar to variations, we are not trying to rank for these terms. We are trying to improve our rankings for our core keyword, by including these LSI keywords.
How To Run Keyword Research
One of the great things about SEO is that access to keyword data is more or less available to everyone, which means you can compete - even against massive companies. To run keyword research like a professional, all you need to understand is: 
How popular each keyword is—to know how many people are searching for it

What the person typing the keyword is looking for—to understand what content you need to create 

How much competition there is for each keyword—to discover how hard it will be to rank for it
1) Look for Search Volume
First, to determine how popular a keyword is, look for its search volume using a third-party tool (more on this in the "Tools" section of this post.)
Search volume is a metric of how often a particular keyword is typed by users in a search engine: The higher the search volume, the more demand there is for a certain keyword.
Often, you'll find that the search volume for keywords varies (sometimes a lot) depending on the tool you use to do research. For example: 
That's why you should think of search volumes as relative metrics instead of absolute.
From the data above, you could conclude that "flowers" is 4 to 7 times more popular than "flower delivery" so, at first glance, it's the first keyword that looks like a more attractive target.
2) Understand Searcher Intent 
Next, you should understand what the users typing that keyword are searching for—this is what's called "searcher intent."
One of the most important things you can do is to grab the keywords you're researching and plug them into Google yourself.
Sometimes, you'll realize you were wrong about what people were searching for.
For example, you could think that people searching for "writing well" on Google are looking for copywriting tips—maybe a great keyword for a company offering content marketing services, right?

In reality, most people typing this into Google are looking for a popular book titled "writing well" written by William Zinsser.
That's why it's important to not only know how popular a keyword is but to also understand what users mean when they type them into the search bar. 
3) Consider Keyword Competition
Finally, another major thing to consider is keyword competition. If a keyword seems like a great fit for your website, it's probably a great fit for plenty of others too—and you're likely not the first one to notice. 
If you find that all the websites ranking on the first page for the keyword you want to target belong to big brands with authoritative websites, it's usually better to pursue other opportunities. 
There are many ways to determine the authority of different websites (more on that in the "Off-Page Optimization article") but some keyword research tool already include a metric for competition that you can use.
We use keyword tools to find the difficulty and how long it takes to rank for those keywords.
Keyword Research Tools
Use these tools to find keyword opportunities, analyze search volume, and discover keyword competitiveness:
Google Ads Keyword Planner: This used to be the go-to keyword research tool for most SEOs. But, Google has drastically limited the amount of data you can get from this tool unless you are willing to spend a good amount of money on their advertising platform. It's free and better than nothing—but we don't recommend using it unless you have no other option. Check out the Google Ads Keyword Planner 
KWFinder: This is our favorite tool for keyword research for beginners. It provides a ton of helpful features in a nice user interface for a nice price. Check out KWFinder 
Ahrefs: Even though it does much more than just keyword research, Ahrefs has built one of the largest and most robust databases of keyword data. Just like KWFinder, it offers a great set of easy-to-use features but it adds several advanced features that will come in handy for experienced SEOs. Check out Ahrefs
SEMRush: Another super powerful keyword research application. We usually use SEMRush for keyword research, but it's also a much more comprehensive SEO tool. Check out SEMRush
Check this post out if you are wondering whether to choose Ahrefs or SEMRush as your preferred SEO tool.
Longtail Pro: Use Long Tail Pro's step-by-step system to discover thousands of profitable, targeted keywords and calculate Keyword Competitiveness for almost any niche. Check out Longtail Pro
For a list of keywords and other SEO tools, check our best digital marketing tools recommendation.
How To Use Our Keyword Research Template
Now that you know different categories of keywords and what to consider while doing keyword research, let's go over the actual steps of finding and organizing the keywords in the excel/google sheets:
Open your preferred keyword tool and search for your topic. Use your favorite SEO tool or any of the above mentioned keyword research tools. We are using KW Finder for this example.
Think about what your clients would search to find your product or business. A list of keywords will appear on the page.
Choose all the keywords you think are relevant by taking volume, search intent, and keyword difficulty into consideration. 
Repeat your keyword research process with the Questions tab. This will generate a list of question based queries for that keyword. These keywords will be excellent to create long-form guides or blog posts.
Download the keyword data and organize it in your template. Once you have (finally!) created a comprehensive list of keywords, export them to your computer. You can do this by clicking on the "Export" button at the end of the KWFinder list (right next to "Add to list"). You can copy the list to a clipboard or you can export it as a .csv file.
Here is a picture of the raw data that we exported on our keyword research template:
And we organized them on our template:

Classify your keywords. Re-name each of these buckets according to the site page you will think they would work on.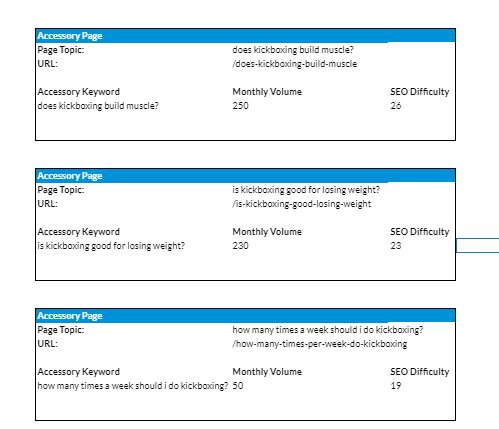 These buckets will constitute the foundation of your website. You may not be able to include all of them, but they will give you a very good idea of what your site needs to look like and what keywords to use when optimizing each of its pages.
Measure your ROI. If you want to push things even further and reap all the benefits of your hard work, you could use your keyword buckets to make business calculations (and take decisions based on them). Here's how our template looks like to calculate your ROI:
These calculations depend on a lot of variables (for starters, the average monthly searches, and your conversion rate, which may vary a lot from one business to another, and one location to another). But you can still do this to get a general idea of your business.
Awesome, you're done! Keywords and SEO strategy keep changing, so make sure you repeat this process on a recurring basis to keep finding new opportunities.
Want to learn more about keyword research? 
These are some great resources to help you take your first steps into keyword research: 
And don't forget to grab our keyword research template.. if you need a simple process to document your keyword research every time you launch a new campaign.